Purple Magic Amanita Mushroom Gummy is a new edible blended with magic mushroom flavors gummy contains 600mg of muscimol, muscarine, and ibotenic acid to give users a unique trippy-like state .
Purple Magic Amanita Mushroom Gummies 6000 mg are yet another exciting and high-potency amanita muscaria gummy to hit the market! More alternatives are always welcome here at Great CBD Shop. With the current Amanita Muscaria trend, we want to make sure that we only deliver the highest quality mushroom goods to our friends!
Purple Amanita Muscaria candies come in a 5ct resealable package and are available in five delectable varieties. Each gummy contains 600mg of the powerful alkaloids muscimol, muscarine, and ibotenic acid. Despite the fact that the amanita muscaria mushroom contains over 50 distinct alkaloids, research indicates that these three are principally responsible for the fungus's psychedelic effects!
Purple Magic Amanita Mushroom Gummies offer a convenient 5-pack of 3000mg gummies in a discreet, resealable pouch. Each pack of amanita mushroom gummies is vegan and gluten free, and contains a potent 3000mg of pure amanita extract (600mg per gummy). The gummies deliver several hours of effects, following 30-45 minutes of activation, with no psilocybin. Purple Magic mushroom gummies are proudly made in the USA in Atlanta, GA.  Here is a full flavor list of the Purple Magic Amanita Mushroom Gummies:
Flavor Profiles:
Watermelon
Wild Berry
Strawberry
Raspberry
Blue Razz
Product Features:
5ct Resealable Bag (3000mg Active Ingredients)
Now Available In 2ct Bags! (1200mg Active Ingredients)
600mg Gummy
Muscimol, Muscarine, Ibotenic Acid
Available in 5 Flavors
Lab Tested For PotencyAnd Safety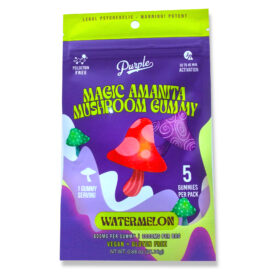 Eat 1-2 amanita gummies to start especially if you are a beginner.
Wait 30-45 minutes and up to 60 minutes for full absorption of the edible.
If you are experienced, you can eat more edible shroom gummies until reaching your desired effect.
Store away from heat, sunlight, and anything that could melt the edibles.